NaNoWriMo Update
November 30th, 2008 by Melina
I survived!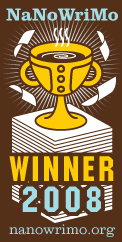 Hello Everybody!
I know I promised you a post on NaNo good luck charms, etc.  Things got a little rough towards the end of NaNo, so once things settle down I'll do a post on good luck charms and rewards.  Hopefully on Wednesday.  How's that?
Even though the last week of NaNo almost killed me, I'm going to miss it.  I tried writing romance this year, and it didn't come as naturally as women's fiction, but I ended up with a story that I can't wait to finish.  
At the risk of sounding like I'm giving a sappy Academy Awards speech, I have to give a huge shout out to the Wiffers who kept me company during those long days at the computer.  I'm especially grateful to the Wiffers who put up with all my tweets about writers block and answered my questions about the music industry, pregnancy, and other random things I needed to know for my novel.  It was the Wiffers who helped me figure out that my heroine's ex husband was in cahoots with my villain.  I got thousands of words right there.  And Wiffers make fabulous cheerleaders!
So that's all for now.  I'll be back when my poor little brain has put itself back together again.
Congrats to all you writers out there!

Posted in NaNoWriMo, Writing Life