My Not So Secret Fantasy
August 9th, 2009 by Melina
Sweden, here I come!

Hi People.
So. Last time we talked, I was all wrapped up in the last day of school and I'd dealt with an unfortunate incident wherein I got locked in my apartment.
Good times.
Anyway, a lot has happened since then. Like huge writing conferences and moving from Manhattan to Brooklyn. I was going to tell you about both, but right now I care about neither.
Why?
Because I'm too upset about this:
See, I find this completely unacceptable. I did not grow up with weather like this. At all. Before I moved to New York, the only humidity I'd ever felt was at Butterfly World. July and August meant fog, aka "natural air conditioning." If we had a heat wave, at least it was dry. A simple ceiling fan was enough to get us through.
In the S.F. Bay Area, we get rain. But we have a rainy season, which is winter. Yeah, we deal with a few months of being cold and soggy, but at least we're not hot. And we can breathe.
In the Bay Area, we don't deal with disgusting, overheated Subway platforms, or hot, wet air that traps dirt and grime. Summer doesn't mean feeling like you're the freaking lint trap in a working dryer.
And yes, the Bay Area branch of my family does in fact think I'm an idiot for moving here.
Especially since they're the ones who decided to flee New York in the first place. Wise people. . .
Which brings me to my plan to move to Lund, Sweden.
Okay, I know. You've been listening to me bitch and moan about the whole moving thing for a while now. (Sorry, and thanks for listening. You are simply the best.)
I even made this claim on Facebook:
Ok, so here's the deal. I'm moving from one small place to another. It's not going well. So I won't be moving again. Ever. And if I'm married someday and have 10 kids, it'll be cramped. But we'll just have to deal with it. I'm thinking bunk beds. Anybody have a problem with that? No? Good.
I lied.
I've rethought the situation, and changed my mind. Turning into a puddle will do that to a person.
So why Lund, you might want to know.
Well, here's the thing. Ten years ago, I spent a year in Jerusalem. Which is where I first learned the definition of hot. For the first few months I lived there (July, August and September), I lived in an unspeakably uninhabitable dorm suite with two Canadians, one Japanese woman and a large variety of unmentionable bugs. Jerusalem, being a desert and all, is hot and dusty. And Jerusalem is. . . shall we say. . . chaotic?
A few months into my year abroad, I landed in Copenhagen, still feeling hot and dusty. As I got off the plane, I felt cool air coming in from outside. The airport sparkled with cleanliness. People were civil.
The angels sang.
Then I got on a boat headed for Lund, a cute city where people are so civilized, and lucky them, don't know from hot and humid. It was clean and orderly. The memory of their pristine busses, with the screens that tell you where you are, still makes me weep.
And it was blessedly cool.
See?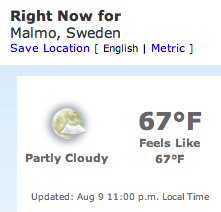 So there. Go Sweden!
Signed,
Mel, who has turned into a puddle. Been nice knowing you.
P.S. No, I do not, at this moment, care about what their winters must be like. Right now, freezing = good.
P.P.S. As I stated earlier, the Swedes seem to be a civil people. So it's possible that my personality, sparkling though it may be, might not be appreciated in Sweden the way it is in New York. Thoughts?
P.P.P. S. Notice that the weather report for the Lund area states that it is 67 degrees. Not only that, it actually "feels like" 67 degrees. They don't add degrees the way we do in New York. Go figure.
Posted in Mel the Brooklynite, Mel's Favorite Posts, New York Living