A Frappe? Please?
August 23rd, 2010 by Melina
Really. Is that too much to ask?

So let's be totally honest here. I've got issues with jealousy. As if that weren't bad enough, the people I'm most jealous of are quite often imaginary. Yeah, remember that writer crazy phenomenon of which I spoke about not too long ago?
Well, lucky you, I'm having a writer crazy moment right at this very minute, and I'm bringing you along with me.
Here's what's happening.
I'm in the middle of revising a group of scenes that has tortured me for about two years. Simply put, they're a hot mess. And no, they can't be cut.
What's worse is that in the middle of these scenes, my protagonist, Daphna, is learning how to make frappe. And she's in Crete. This stings extra hard because right now, I'm supposed to be in the village I'm writing about. I was supposed to leave August 11th but I had to cancel my trip.
It's not just that I'm spoiled and want a vacation. I miss my family and Greece itself so much it physically hurts.
Also, it's 91 degrees in the Bay Area today. My precious fog has up and ditched me. It's not too bad in the house, and without humidity, it doesn't feel as bad as 91 degrees would in NYC. But right now, I want a knight in shining armor, or at the very least The Lucky Mr. Mel, to come running in with a nice, cold glass of frappe so I can sit in the backyard, put my feet up, and read.
Actually, what I really want to experience is this:
So I had to bring my revising to a screeching halt so I could kevtch to all you good people and share this photo, which I took soon after I got off the boat on my last trip to Crete.
OMG. This is where I have to pause and discuss the yogurt. Forget that it's as thick as soft serve ice-cream. Check out that honey. It's made by the local bees and smells like lavender and citrus.
But enough that. Back to frappe. I'm a total coffee snob. I grew up two feet from the Gourmet Ghetto and Peet's Coffee. So you'd think I'd scoff at Nescafe. And you'd be right. With the exception of frappe. And evaporated milk freaks me out a bit, but that's what's used in frappe so I deal.
I'd make it myself but it just doesn't taste the same. But in case you want to give it a try, here you go: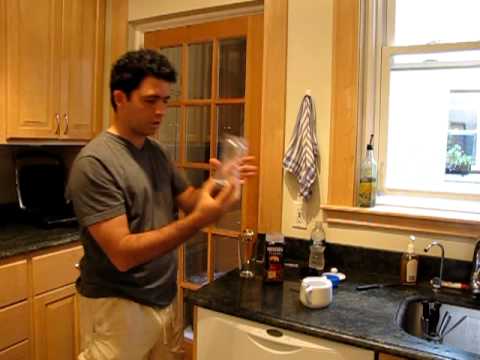 By the way, you know who else loves frappe? Sofie Metropolis. No, she's not real. And that upsets me a lot because I adore her to pieces and when I read a book in the Sofie series (by Tori Carrington) I have this urge to get on the subway to Astoria and find her.
Well, there you have it. I'm jealous of my protagonist and my BFF isn't even real. Such is life.
In any case, The Basement Divas are getting pissy. Which means I'd best be getting back to revisions.
Off I go.
Wait. No. I forgot to leave your parting gift.
My characters dance to this. Only, it's a better version, with words. It's just that I thought y'all would enjoy the photos. (And while they did use this song in My Big Fat Greek Wedding, it's not from the movie. It's a classic.)
And, and, and. . . I discovered Oh. My. Gods. and Goddess Bootcamp by the wonderful Tera Lynn Childs. I haven't read much YA, but seriously, these books that take place on a magical Greek island totally made my summer.
My recommendation? Make a frappe and get reading!
Now, I'm really going. It seems that Pam's revising, so I can't just sit here and not revise too, right?
*Update: I did it! I made frappe. It wasn't quite like the authentic Greek frappe, but it was pretty close!
Posted in Fun With YouTube, Recipes, Writer Crazy