NaNoWriMo: Basic Survival
October 31st, 2008 by Melina
Part 1 — Wardrobe

All right, so I'm sure you're sick of me by now. Seems like my blog has been suffering from extremely serious "when it rains, it pours" issues.
Sigh. I'm sorry. 
But recipes don't count, right? That wasn't blogging. That was simply updating my recipe page. . .
Anyway. NaNoWriMo starts tonight at midnight, and I've been too excited to sit at my computer and work on setting up my Scrivener document. And I am in no way a neat freak, but I can't write when my apartment is messy, so I've been cleaning. 
But I just abandoned my clothing organization endeavor for the sake of all of you, my lucky reader. Because I've survived and won NaNo one whole time, and that makes me a wealth of information, don't you think?
So here it is. My first post on NaNo survival. 
Today's topic: Wardrobe. (Or NaNoWear)
And yes, this is kind of embarrassing, but here's a picture of what I'll be wearing while NaNoIng. Except of course, when I'm at the write-ins. Those outfits will be better than these.  
But not by much.
(BTW Hamudi says he's sorry for not picking up his squeaky toys before the picture was taken.)
First, we have a blanket. That's right. It's November and it's cold. I hate my radiator so I like to have it off. Which means I drink a lot of tea and dress like I'm living in an igloo.
Next, my lucky socks. They're not Lani's magical creativity socks, but they'll do. They're warm. I became attached to them on a trip to visit my mother. I was going to just slip them in my suitcase and hope she wouldn't notice (see, my dog is a bad influence). But she was nice enough to offer them too me. (Lesson to Melina: Ask, and sometimes you shall receive.)
Then there's last year's NaNo shirt, which I bought after I won. Now, it's my lucky writing shirt. And, on some nights, my nightgown.
Also, a pair of lounge pants and a pair of pajama bottoms.
Yeah. Like Sarah Palin, I'm known for my fashion sense. (Sorry, horrible joke.)
And here's something that's not wardrobe, but it may be on my lap while I write. (Sorry Hamudi, I know you're jealous, but you have a tendency to put your paws on my keyboard, and that does funky things to my word count.)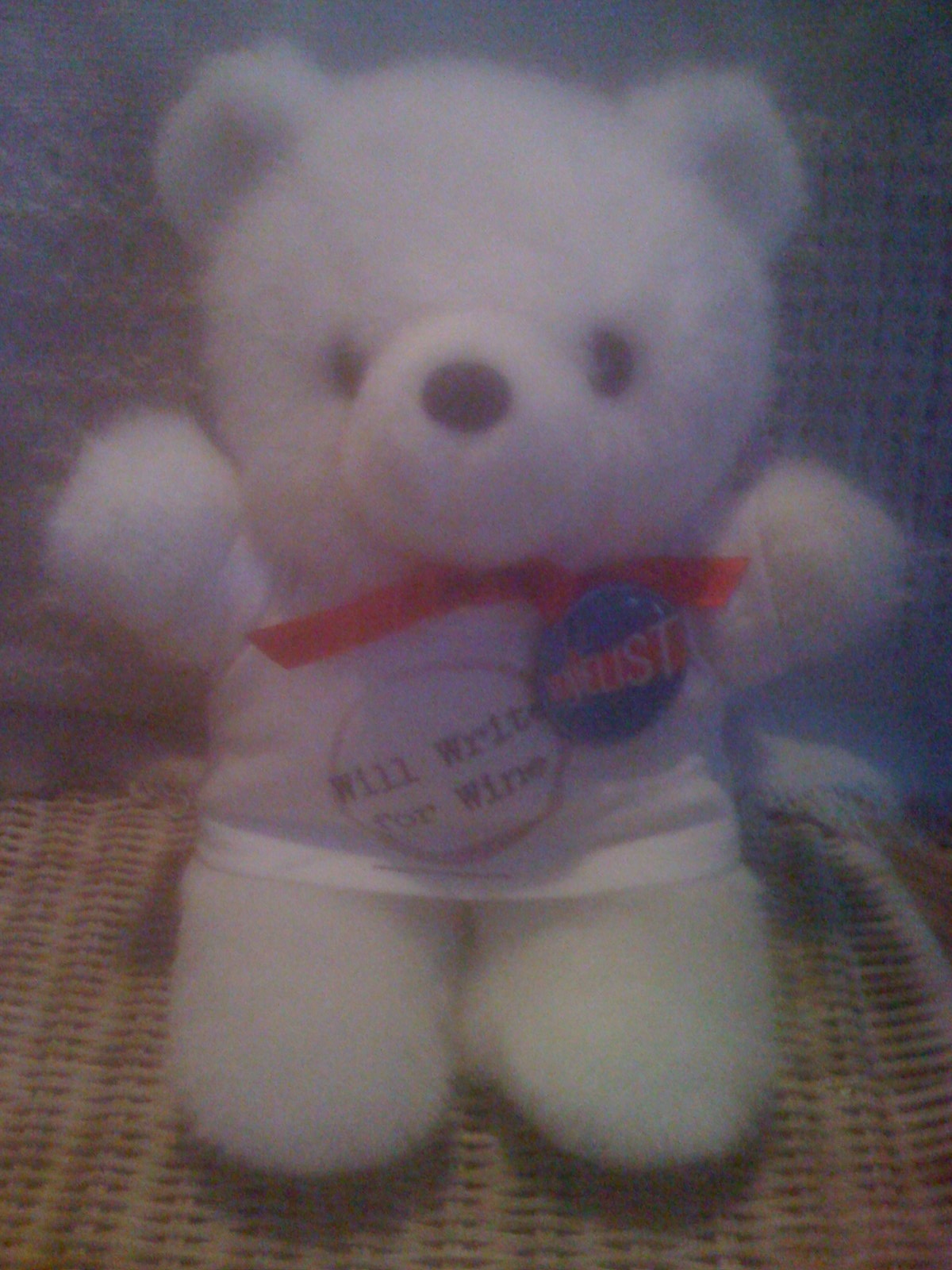 It's my Will Write For Wine teddy bear, and he's wearing the pin from my NaNoWriMo Noveling Kit. Poor guy doesn't have a name. Any ideas?
And there you have it. Fellow writers, what do you wear when you write?
To those of you doing NaNo, best of luck! Happy word counts to all of you!
(Next up in the NaNo Survial series: Books, books and more books.)

Posted in Mel's Favorite Posts, NaNoWriMo, Writing Life