Passover Recipes
April 6th, 2009 by Melina
Directly from Mom's files!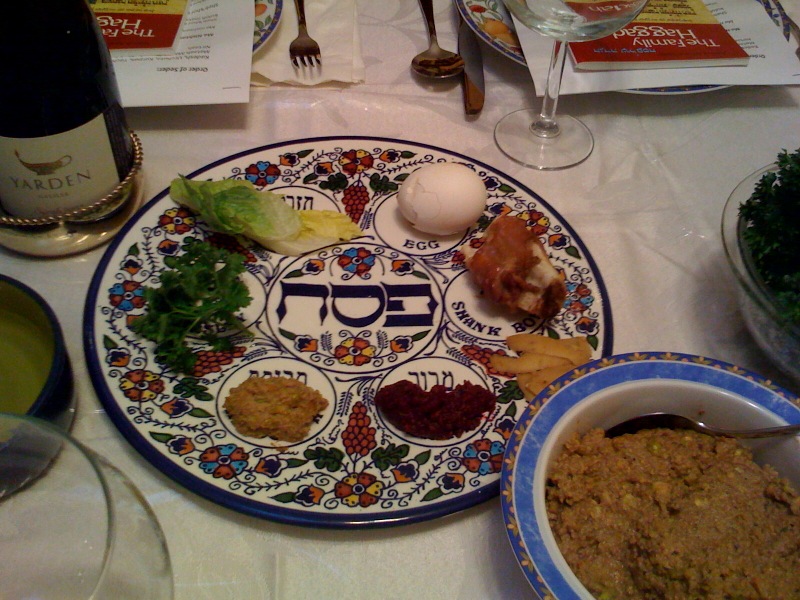 Hey Everybody!
As promised, here are my Passover recipes. Well, they are mine, because I'm going to be the one cooking. But I did steal them from a file on my mom's desktop. And we all know that my mom is quite the cook, don't we? 
So. Keep in mind that there are special dietary laws to be followed and traditions to be kept (how else do you explain gefilte fish?). These are not my usual spicy, garlicy, natural Mediterranean recipes.
You should also know that I cut and pasted directly from my mom's file with all her little notes, etc. Fun, eh? (Anything in italics is from me. You know me. Like I'd resist any opportunity to chime in.)
Here we go:
Melina's Charoset
Okay, okay, so I lied. This one recipe is mine, not my mom's. But the rest are hers, pinky swear.
Click here if you don't know what charoset is.
I am extremely picky, and am not a fan of walnuts, so I use pistachio nuts. As is typical for my recipes, I don't know amounts or anything like that. 
Use a food processor to chop the pistachios. Take a bunch of different kinds of apples (I kind of, sort of peel them) and chop those up too. Add some cinnamon. Add some wine and/or grape juice. 
Taste it. If you like it, you're done. Go put your feet up for a few minutes. If you don't, no biggie. Just adjust it until you do.
There. That's it.
P.S. You can add honey if you'd like. 
P.P.S. Just tasted my charoset. It needs wine, just like the person who made it.
P.P.P.S. And here's a way cool recipe for Persian charoset.
Frances Plansky's Matzoh Balls
These are fluffy "floaters." I prefer "sinkers," but what can you do? This is tradition. 
 4 eggs

        

        

        

        

        

        

1/2 c water

        

        

        

        

        

        

        

1 c matzoh meal

        

        

        

        

        

        

1/3 c oil

        

        

        

        

        

        

        

1 tsp salt

        

        

        

dash pepper

        

        

        

        

        

        

        
(for 8-10 balls)
Beat eggs till light.
Add water, oil, salt and pepper.  Mix.
Add matzoh meal, stir.
Put in fridge at least 20 min.
Boil water w/1 tbsp salt.
Shape into balls.
Drop into boiling water.
Boil 20 min w/TIGHT cover. DON'T LIFT LID!!!
Then, turn off heat and let sit with tight cover for one hour.
(For the chicken broth, my mother uses Molly Katzen's vegetarian chicken soup recipe but sticks a whole chicken in the pot. Sorry Molly.)
Aunt Julie's Chicken Paprikash
Aunt Julie was my grandfather's sister. That branch of the family is Hungarian, hence the paprika. The chicken falls off the bones. Please people, let's not choke. Okay? Thanks.
Put 2 chickens cut in 8ths into salt water.
In deep pot, sauté 2 big onions in a little oil.
Add chicken pieces (not liver).
Cover, simmer on medium heat w/ tight cover for 3/4 hour.
Pour in 1/2 packet Hungarian paprika. Taste for flavor. 
Add 1 small can Manischewitz chicken soup (maybe less than one can–before the chicken is completely covered). 
Add mushrooms toward end.
Cook another 1-1 1/4 hours.
This goes very nicely with the "Matzo Stuffing" recipe on the container of Manischewitz farfel.
Passover Sponge Cake
This is one of the reasons I had to store five dozen eggs in my uncle's refrigerator. Yikes.
9 egg yolks (Not kidding.)
2 c. sugar
6 T. water
1/4 c. fresh lemon juice
3/4 c. unsifted matza cake meal
3/4 c. unsifted potato starch
2 1/2 t.

 

grated lemon rind
1/2 t. grated orange rind
9 egg whites (Again, so not kidding. How else is the cake going to rise?)
1/2 t. salt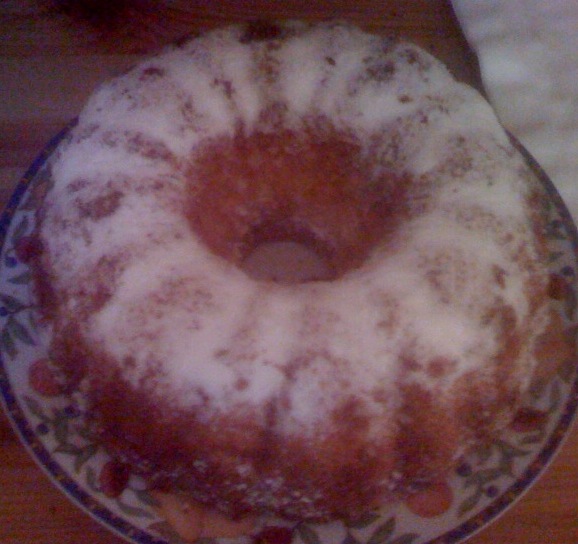 Mix together the egg yolks, sugar, water, and lemon juice. Beat together at medium speed until light and fluffy.
Add the matza cake meal, potato starch, lemon rind and orange rind very gradually to the egg yolk mixture. Make the addition as if you are shaking powder (this is the key to it not falling). It should take 5 minutes or more to add the dry ingredients to the egg mixture.
Beat the egg whites and salt separately until the egg whites are just a little beyond the soft peak stage.
Fold the egg white mixture gently but thoroughly into the cake batter. Pour into an ungreased 10″ tube pan. Bake on the middle rack at 350 degrees Fahrenheit for 1 hour and 10 minutes or until the cake springs back when touched lightly.
Cool completely inverted. Remove from pan when cool. Serve with big red strawberries.
Traditionally, powdered sugar isn't used during Passover because it has cornstarch, and corn is a Passover no no. My solution is to mix granulated sugar with potato starch. It's just like powdered sugar, and is nice on the berries.
Enjoy!
Posted in Holiday Fun, Recipes