I Can Haz Apps?
July 15th, 2010 by Melina
Apps for the writerly type. . .

So get this. Here I am at Chez Mom, with time on my hands, quiet (when Creature is behaving, that is), and cool, foggy weather. You'd think the whole writing thing I like to take part in would be going swimmingly, right?
People, people. If you thought that, you'd be so wrong. Nice of you to think that though.
But hey. RWA is right around the corner. So it's time to pull the writing career together.
And, geek that I am, I've got apps for that! You probably do too. And if you do, I beg you to share them in the comments! I'll really love it and it'll be great for your karma, too.
Here are mine, by category.
~
Word Count Apps:
Write Chain (Set goals, and set how many days you can take off from writing without breaking the chain. My chain? Yeah, that's way broken. Haven't clicked on the app in a while. . .)
NaNoMoJo (Can we please talk about how much I can't wait to use this in November? It's like having the whole NaNo site on your phone, and you can even keep track of your buddies!)
Brainstorming and Diva Pleasing Apps:
Question of the Day (Tons of questions you can apply to your characters, and they're organized by deepness (is that even a word?). Really helps you figure out what makes your characters tick.)
Love Quotes (Fine. It's way cheesy. HOWEVER. In those rare moments you want your characters to be somewhat nice to each other, and you're in a really bad mood and can't pull off that miracle (not that this would ever happen to me, of course,) this helps.
Practical Apps:
Readdle Docs / Good Reader (It can be really great to turn your WIP into a .pdf and read it on your phone or iPad. Not being able to take notes and having your writing feel like a real live ebook can sometimes, although not always, be fantastic. Plus, you always have your work with you, so you can turn being stuck in line at the grocery store, or stuck on the freaking Q train, into a golden opportunity.)
Baby Name Apps (I'm not giving any links, since it's easy to go to the app store and find ones you like. I was lucky enough to find an app with Greek baby names and meanings, since most of my characters, in all three of my WIP's, are Greek.)
WriteRoom (A distraction free writing environment for your phone. Although I find I prefer my phone's built in notepad, since, I must confess, I prefer the cheery yellow to the scary black. Yeah, I like cheerful. Who knew? All I'm saying is, check it out.)
WikiTap / Wikipedia / Dictionary (Kind of obvious, right? Just wanted to mention it though. I really adore the built in videos for research purposes, since it prevents getting lost in the glory that is the YouTube app.)
Evernote (Great for keeping track of notes, info, etc. I have it, but confess I don't use it much because I have a Scrivener organization process that is almost humiliatingly obsessive and honed.)
Apps to help with Productive Procrastination:
Othello (You'll thank me later. Or, actually, probably not. But still, I urge you to download and enjoy.)
Cheezburger Clock App (OMG it's so worth every penny. If you don't know what I'm talking about, start the madness here).
magic8ball (How else are your characters going to make decisions? You'll thank me later. For real this time.)
People Magazine (No, I refuse to be embarrassed for mentioning that.)
The Onion (So much fun!)
If you're tired and need to "refill the well:"
YogaStretch and YogaRelax (A great thing to do before and/or after placing your butt on your chair and your hands on your keyboard! Bonus if you don't have a dog who howls when he sees you get on the floor.)
Stitcher and Pandora (When I get sick of listening to my story soundtrack, these apps are a great way to find music that's geared towards my taste but that I haven't necessarily heard. Warning though – Pandora links right to your iTunes store, which makes it almost as addicting that the Amazon Kindle app.)
And, because writers are readers too:
Audible (OMG Audible has an app now! Which makes audiobooks WAY too easy to listen to and buy.)
snaptell (Have you heard about this? You take a photo of a barcode on a book, and you are instantly directed to reviews and other information. Works on CD's and DVD's too!)
TBR (Released by Smart Bitches and Dear Author – it's a great place for book reviews and they have free stuff too!)
~
Last but not least, I just came across this video. This looks like a cool app too!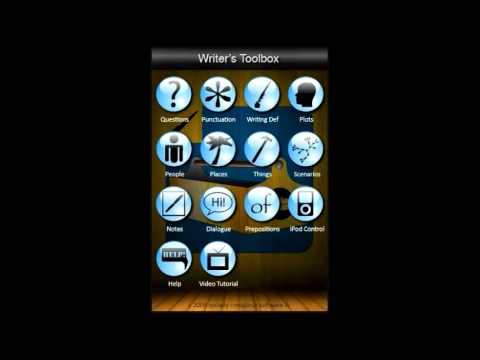 And there you have it! I showed you my apps, now you show me yours.
In the comments that is.

Ciao!
Posted in Writing Life