A Frappe? Please?
August 26th, 2010 by Melina
Part 2

So here I am, 90 pages away from finishing the last 90 pages of this nasty round of rewrites. And I'm falling asleep.
Remember how I wanted a frappe? Look what I found in my mother's pantry:
Check this out: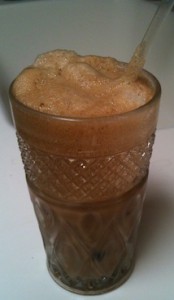 Ah, yes! Bliss!

Posted in Recipes, Writing Life