32 Years of Sleep Debt
July 19th, 2010 by Melina
No wonder I'm cranky. . .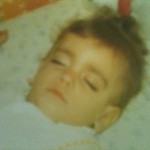 All right People. Let's have a little chat, shall we? The topic? Sleep. Or lack thereof.
I'll start.
I'm tired. Scratch that. I'm exhausted.
And it's really pissing me off because this summer, I'm kind of stuck in the house helping my mother, and I have no need to set my alarm, so I've got no good reason to be this tired.
Except for the fact that sleeping is not one of my talents. In fact, I suck at it. And the saddest thing about this is that my mother says the sleep trouble started when I was an infant.
See? Here's me. Not sleeping:
32.4 years of sleep debt. No wonder I'm cranky. I'm freaked out too, because I remember hearing something on TV about how for every hour of sleep you lose, your IQ drops a bit.
So yeah. Math is another thing I suck at, but let's add up every hour of sleep I've lost over the course of my life, and add that number to my IQ. Wow. Okay, maybe let's not. Point is, if I were well rested, I could've possibly been the next Einstein or something. You think? I'm just saying. . .
Anyway, I've tried so many things to help me fall asleep, like turning off the computer, TV, etc. an hour before bed, making the room a bit cool, exercise, yoga, tea, reading, and at some point, counting sheep. Cause y'all know I like sheep and stuff.
I just don't enjoy sleep. There are so many things I'd rather be doing. Just think of all the things I'm missing by getting into bed! I could be playing Bubble Shooter or something. (Or figuring out why all the images I've inserted into this post look totally aligned in draft form but move all over the place in the final version.)
I'd compare the need to sleep to the need to eat spinach and Brussels sprouts, except I happen to like those things (yeah, that's another topic).
You know what else? I get a burst of energy when it gets dark. How, may I ask, am I supposed to sleep under those conditions? But in the morning, forget it. I'm about as useless and pleasant as a used coffee filter.
Besides, I always wake up groggy and disoriented. Plus, there's the added bonus of my tossing and turning, which makes my hair escape from the elastic band I tie it back with, so I always wake up with frizzy tangles and nobody in their right mind would disagree that Morning Mel looks like Medusa.
It's just not worth it.
Unless you happen to value your IQ points.
(Note: If you're going to RWA, and you happen to see a zombie roaming the halls of the hotel, it's not some author playing one of her characters, or something Buffy and the Scooby Gang need to deal with. It's just me.)
Okay, your turn. Sleep. Discuss amongst yourselves.
Sweet Dreams!
P.S. Next blog topic: Dreams. Specifically, my dreams, and why they're annoying.
Posted in Classic Mel