Great Cheese Comes From Happy Cows.
August 11th, 2010 by Melina
Happy Cows Come From California.

People.
We've got a problem.
Which is: I went to RWA in Orlando. I came back and got sick. A visitor came for almost a week. I had a whirlwind tour of the San Francisco Bay Area (I'm visiting my mother in CA, remember?). Now, I'm tired.
And, I'm trying to deal with revising a book that must be sent out into query world by the end of August.
Point is, I'm not so capable of being articulate right now.
However, I do have a blog topic. Okay, it's about commercials, and I hate commercials so much I record everything on my DVR so I can fast forward.
Except for the California Cheese commercials. That's because of the California Happy Cows.
See, in college I lived across the street from a bunch of Happy Cows, and they used to look at me every time I walked to my car.
We were tight, you know? Plus, by coincidence, they look like Creature. On Sunday I was in Sonoma County (wine country), home of the Happy Cows, so they've been on my mind.
Oh, I even snuck a picture of some California Cheese at the Sonoma Cheese Factory:
So, I present to you, the best of the Happy Cows.
1. How can this whole scene fail to improve a dark mood? (Apologies in advance for the ear worm.):
2. The earthquake scenario freaks me out, having been through the 1989 Loma Prieta earthquake and all, but it's still funny:
3. And this one is just fun. A cow with a midwestern accent: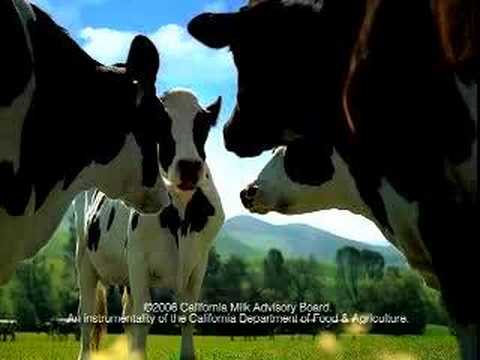 You know what? Some animal right activists claim that these commercials are misleading, because the cows aren't happy. I really and truly hope that they're wrong. I know nothing about cows, but to me, those cows I used to drive by and live across the street from seemed to enjoy the big grassy fields and the sunshine. . .  All cows should be so lucky.
Anyway. I hope you're all having a great week! Thanks for stopping by!
P.S. Yeah, I know. First goats, now cows. Maybe I should be a farmer.
Posted in California Dreamin', Fun With YouTube